VMworld: Community Tech Talk – Differentiate or Die?
As mentioned in a previous post I was lucky enough to be able to present a #vBrownBag Tech Talk at this years VMworld. Even though the timing meant a smallish audience in the Community Hang Space it was a thrill to present…somehow I even got my still on the frontpage of the VMworld Video Page: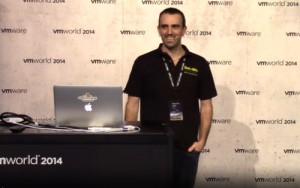 Below is the talk which presents the Slide Deck with an audio overlay…interested in hearing comments so feel free to post below.
The original Blog Post can be found here:
http://www.vmworld.com/community/videos#videoarea
The Complete vBrownBag VMworld 2014 Playlist can be accessed below: